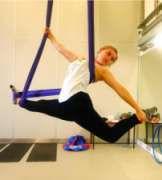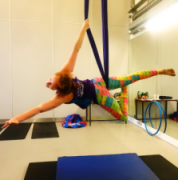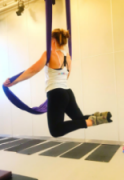 The Aerial Sling, also known as Aerial Hammock, is a looped aerial silk. We use the loop to support the body in pretty poses, and learn the twist and manouvre the silks around the body to create flowing sequences between these poses.
The Aerial Sling also provides an excellent support for rolls and drops, similar to the aerial silks, but often in a less complicated way to the silks.
No experience in aerials is needed to start learning sling. You will be learning to invert (get upside down) from week 1 so you can expect to be working hard. It doesn't matter if you are not very strong to start with as that will come with time as we condition you in class!
Students should wear leggings or joggers which cover the backs of the knees, and a t-shirt/vest which covers the waist. As you progress you will also need to cover the armpits for certain moves. This is to avoid friction burn from the material.