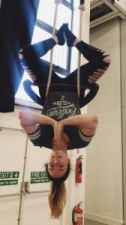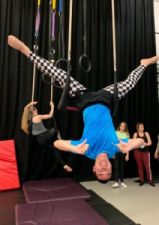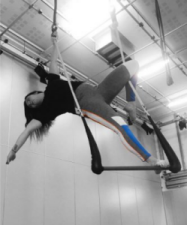 The "static" trapeze combines elements of aerial hoop (working on a solid metal bar) with rope/silks skills. The solid bar gives a strong platform for beautiful poses and the moveable ropes allow some fun and unusual transitions.
No experience in aerials or gymnastics is necessary to learn trapeze as we will teach you all you need to know. Strength and flexibility come with time, all you need is enthusiasm!!
Students should wear leggings or joggers which cover the backs of the knees, and a t-shirt/vest which covers the waist. As you progress you will also need to cover the armpits for certain moves. This is to avoid rope burn.