We haven't yet set our dates for February half term. Please check back!
Or to book a party email cat@revolutions.org.uk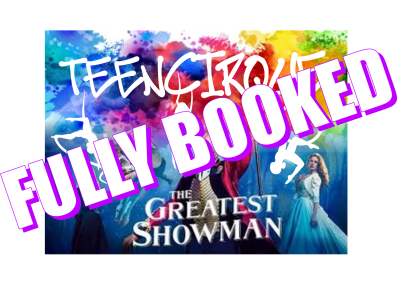 An introduction to the world of cirque, inspired by the hit film The Greatest Showman.
In the air we'll be learning aerial silks, aerial hoop and trapeze. Moving on to the floor you'll learn some acro dance choreography to link your new aerial skills, including basic gymnastic floor work. We'll be putting your new skills in to a routine to perform at the end of the day.
Absolutely no experience is necessary for these workshops. Participants will be grouped by according to their background in aerial, dance and gymnastics, so we can teach newcomers the basics and also get experienced youngsters doing some more interesting drops, flips and tumbles. Numbers are limited so everyone will get lots of attention specific to their strengths and weaknesses.
This workshop is recommended for girls and boys aged 8-16. Older students are very welcome :) Younger students please contact us directly to discuss.
What to wear:Long trousers such a leggings or joggers are essential. Shorts are not appropriate for aerial work as the backs of the knees will get very sore. For silks the waist and armpits must be covered. A t-shirt which can be tucked in, or a leotard is ideal. Please avoid shiny material as it will be slippery against the silks. Socks for dance/stretch, barefeet for silks.
www.revolutions.org.uk
Design & content property of Cat Ledbetter & Revolutions. Copyright April 2016